Work with Experienced Estate Planning Lawyers in Forest Hills, NY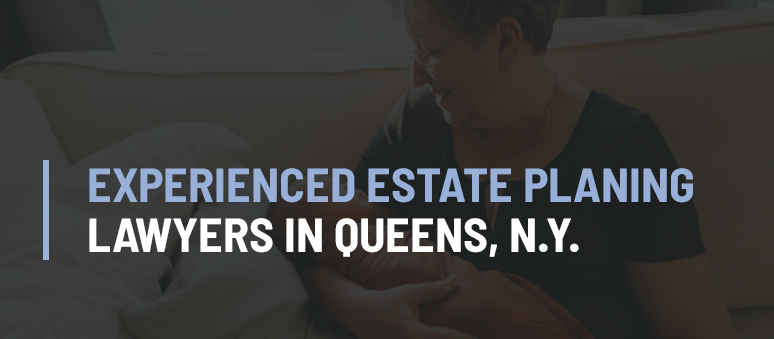 In a 2017 survey, nearly 60% of adults in the United States did not have a will in place, and only 53% had medical power of attorney rights arranged. Without these documents — both part of proper estate planning — your family may experience a confusing, complex burden upon your incapacitation or death.
By working with a qualified estate planning law firm today, you can establish peace of mind for you and your loved ones.
What is Estate Planning Law?
Estate planning law involves creating legal documents that provide direction in the event of incapacitation or death.
Whether you'd like your next of kin to handle these duties or choose to appoint another trusted contact, estate planning ensures all parties are prepared and can ease the stress on your loved ones.
Estate Planning Terms You Should Know
Agent — a trusted person, appointed to carry out business on your behalf if incapacitated or in the event of death
Beneficiary — the person receiving a benefit from your estate, such as payments from a trust or insurance policy
Executor — an executor handles enacting your will after death, paying necessary taxes, and overseeing distribution of property and assets.
Guardian — also known as a conservator in some states, a guardian is appointed to make decisions on your behalf if incapacitated
Intestate — any property that was not disposed of or allocated in a will before death.
Living Will — a document that outlines your wishes for medical care, including resuscitation, in the event of incapacitation. A durable power of attorney can be appointed to make decisions related to medical and end-of-life care.
Probate — the court proceedings that guide the administration of wills and some trusts after death
Real Property — refers to land or other property attached to the land, such as buildings
Trust — a legal arrangement in which assets are held by an appointed party (the trustee) for a beneficiary
Types of Estate Planning Law
An estate planning law firm can assist you in arranging guardianship, medical power of attorney, and living wills in addition to preparing for estate distribution. Additionally, estate planning law firms may focus on several specific areas of estate planning law, including:
Elder Law
Real Estate Law

Do You Need an Estate Planning Lawyer?
In New York, valid wills must be documented on paper and signed in the presence of two witnesses. Oral or handwritten wills are typically not upheld as valid except in specific circumstances involving service members in active armed conflict. Estate planning attorneys can ensure that your will and other estate documents are legal and recognized by the state.
How to Choose an Experienced Estate Planning Attorney in New York
The experienced estate planning attorneys at FK Law Group in Queens, New York, help clients with overall estate planning, elder care, power of attorney, estate taxes, wills, and other essential planning matters. Contact us for a consultation with a member of our compassionate estate planning team and ensure your family's future is secured.