Work with Experienced Grandparents' Rights Lawyers in Queens, NY
Because New York State considers child-rearing to be a fundamental parental right, grandparents must have a sound reason to petition for custody or visitation rights. By default, a child's biological or adoptive parents retain full legal and physical custody. No other parties are guaranteed visitation to the child. A court order is necessary to change this arrangement.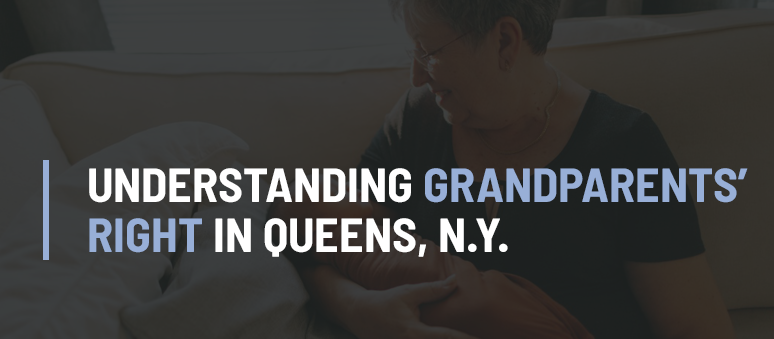 Ultimately, the courts will only consider alternative arrangements deemed to be in the child's best interest. If you are a grandparent who believes their grandchild's parents are unfit or are barring you from a relationship with the child, you may have a valid case.
While New York's family courts offer several do-it-yourself petitioning options related to custody matters, the system is complex. Engaging the services of a lawyer is recommended. The skilled grandparents' rights lawyers at FK Law Group in Queens can help advocate for you and your grandchildren's best interests.
Understanding Grandparents' Rights
Grandparents do not have the rights of biological or adoptive parents. However, birth and adoptive grandparents may pursue the following rights in court:
Physical Custody: A parent or grandparent awarded the physical custody of a child becomes responsible for that child's day-to-day needs, including providing food and a home.
Legal Custody: The adult who holds legal custody of a child is responsible for making decisions for the child. These decisions may include matters such as medical care, education, and religious upbringing.
Visitation: If a grandparent holds less than 50% physical custody of a minor child, they may seek court-ordered visitation rights.

The same adult may hold physical and legal custody of a child or only one type. Two parents or guardians may share custody, as well.
Full Custody: One adult holds full legal and/or physical custody and is responsible for all of the duties that that custody entails.
Joint Custody: Two adults share physical and/or legal custody of a child and must agree and communicate on decisions and actions as needed. Joint custody may be between two parents, a parent and a grandparent, or other guardians appointed by the court.
When petitioning the court, grandparents must prove that they have an established relationship with the grandchild. They must also prove that it is the child's best interest to have a relationship with their grandparents.
Grandparents interested in custody or visitation must be fit to care for a child. A history of substance abuse or violence may make it more difficult for grandparents to successfully petition the court. Legal counsel can advise on the details of your background when interested in petitioning for custody or visitation with a grandchild.
What Visitation Rights Do Grandparents Have?
Grandparents may request court-ordered visitation rights in exceptional circumstances such as:
A child's parent(s) interfering with or restricting an established grandparent/grandchild relationship
The adoption of the grandchild by another party

Grandparents who previously cared for a grandchild who has since been returned to a parent's custody may also pursue visitation rights.
Courts determine visitation by considering the child's best interests. Because the burden of proof lies with grandparents, it is vital to engage a qualified grandparents' visitation rights lawyer. Your attorney can help you petition properly and make your visitation case.
What Factors Do New York Courts Consider When Determining Grandparents' Visitation Rights?
Courts will evaluate several factors when determining grandparents' visitation and custody rights. This criteria is similar to how courts establish parental custody and visitation rights.
The courts will consider:
Age of the child
The child's wishes
The geographic proximity of grandparents to grandchildren
All parties' mental health
All parties' history of substance and/or domestic abuse
The grandchild's existing relationship with its biological or adoptive parents
Grandparents' nurturing ability
Grandparents must obtain their own legal counsel for help petitioning the court. If your grandchild does not have private counsel arranged, they may be eligible for a court-appointed attorney.
What Must Grandparents Prove in Court?
The burden of proof lies with grandparents when petitioning for visitation or custody rights. Grandparents must be able to prove they are the more fit choice to see or care for a child. At FK Law Group's Forest Hills office, we have a team of attorneys experienced in custody matters. We can help grandparents petition the court effectively.

If grandparents are seeking visitation rights, they must prove the following:
One or both parents are deceased
There is an existing, warm relationship between grandparent and grandchild
The child's parents, if alive, have interfered with the grandparent/grandchild relationship
If a grandparent is seeking full or partial custody of a child, they must effectively prove to the court that the minor's parents are unfit in one of the following ways:
Abandonment of child
Surrender of child
Ongoing neglect
Child Abuse
No bond formed with the child
Grandparents may also have a successful case if they can prove that parental custody has already been disrupted for an extended period.
It may be difficult to prove some of these points, such as lack of a parent-child bond, without an attorney's guidance. A parent may counter-argue petitions by stating that the grandparent exerts excessive influence over the child and their relationship.
If your grandchild is old enough to voice an opinion, the court will often ask for their input.
Grandparents who believe they have grounds on which to petition the court for visitation or custody rights should work with an attorney who has prior experience with New York family courts.
How are Grandparents' Custody Cases Handled in New York?
Any grandparent interested in petitioning for custody and visitation rights must file the appropriate paperwork with the proper family court. After the petition process starts, the person currently holding custody of the child will receive a summons.
When all parties arrive at family court for the custody or visitation hearing, their case may be heard by a judge or a court attorney-referee.
If a child's grandparents and parents reach an agreement on their own accord, the judge may listen to the testimony and record the custody order. If the parties cannot reach an agreement, then the judge, court attorney-referee or mediator may make a custody or visitation determination. Social services may be involved in some circumstances.
Once a court order is in place for custody or visitation, only another petition and hearing may modify it.
How to Choose New York Grandparents' Rights Lawyers
Working with qualified grandparents' rights attorneys will help you navigate New York's complex legal system and reestablish a relationship with your grandchild. FK Law Group's experienced grandparents' rights lawyers in Forest Hills are skilled in petitioning the court to recognize and honor grandparents' relationships with their grandchildren. Join us for a consultation at our Queens office to discuss how we can help you gain or retain the right to see and care for your grandchild.