Expert Military Divorce Lawyers in Queens, NY
Several factors may influence military divorce, including location, duty status, and length of service. A military divorce lawyer will help you understand the process and its implications on your benefits.
What is a Military Divorce?
Much like civilian divorce, military divorce is the dissolution of a marriage. At least one spouse current or former member of the U.S. armed forces.
Why Where You File Matters
The federal government provides guidelines for certain aspects of military divorce. This guidance includes laws such as the Uniformed Services Former Spouses Protection Act. However, state or territory laws may also influence the division of assets and benefits.
The military divorce and separation process may vary by location. Assets such as GI bill benefits and VA disability payments are not automatically financially divisible in a divorce. However, these benefits may be considered income by your state or territory when calculating child support and alimony responsibility.

You may typically file for divorce in a state where either spouse is a resident or stationed by the military.
Military Divorce Process in New York
The New York Supreme Court handles all divorce cases. Due to the influence of additional federal laws regarding military divorce, it is strongly recommended to engage an attorney's services when filing for divorce in New York.
Your military divorce lawyer will work with you to:
Correctly file divorce paperwork
Establish an appropriate timeline for serving divorce papers
Understand your rights to spousal benefits
Represent your best interests in the divorce
Can I Serve My Active Military Spouse Divorce Papers?
Under the Servicemembers Civil Relief Act, you may not serve divorce papers to a military member during an active duty.
In certain situations, waivers may apply to allow a divorce to proceed despite active duty. A qualified New York military divorce lawyer can advise on the appropriate course of action for pursuing military divorce while you or your spouse are on active duty.
What Benefits is my Spouse Entitled to After Military Divorce?
Military spouses may be entitled to varying amounts of financial, healthcare, and retirement benefits during and after a divorce. While separated, military members may have to pay their spouse a monthly stipend for living expenses, unless otherwise ordered by a court.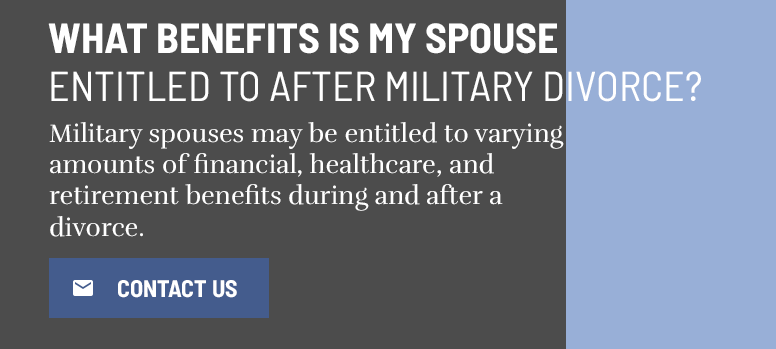 Ex-spouses are not entitled to military base housing and must vacate the premises within 30 days of the divorce. Spousal eligibility for retirement and healthcare benefits is calculated during the divorce process.
How are Military Benefits Divided?
Military members and spouses are eligible for Tricare medical benefits. After divorce, an ex-spouse may be eligible for continued benefits, a portion of benefits, or transitional benefits including COBRA. An ex-spouse can often continue full Tricare benefits at the military rate if they remained married during 20 years or more of military service.
Former military spouses may receive a portion of retirement benefits depending on the marriage's length and timing. The same factors determine whether spousal retirement benefits will be paid directly by the military or by the ex-spouse.
How to Find a New York Military Divorce Lawyer?
If you are a military service member or spouse seeking to file for divorce in New York, FK Law Group's qualified military divorce attorneys can help. Join us for a consultation at our Forest Hills office and learn more about your options when pursuing military divorce in New York State.