Legal Guardianship Lawyers in Queens, New York
If you are interested in seeking guardianship of or for another person, it's essential to understand the legal implications and processes involved in becoming a guardian.

What is a Legal Guardian?
A court-appointed legal guardian is responsible for making decisions for someone else, called a ward. Many legal guardians are appointed to make decisions on behalf of a minor child. There are instances in which one adult is the guardian of another. These persons may be the guardian of an incapacitated adult or the guardian of a developmentally disabled person.
Guardianship Laws in New York
In New York, the court must appoint legal guardians. A guardian must be at least 18 years old. Even if all involved parties privately agree on the guardianship appointment, a court hearing is required.
When a guardian is appointed, the judge will issue something called the "letters of guardianship." This document outlines what the guardian may or may not do in their new role.
Because all petitions proceed to court, it is recommended to engage the services of an experienced New York guardianship lawyer.
What Are the Rights and Duties of a Legal Guardian?
Legal guardians have a wide range of responsibilities on behalf of their ward. These may include:
Providing needs such as clothing, food and shelter
Supporting physical and emotional health or needs
Protection from safety hazards
A guardian's ward may be financially dependent on the guardian or have their own financial means such as inheritance, estate or investments. In this event, the legal guardian has a fiduciary duty.

Fiduciary duty means the guardian is legally bound to represent the ward's estate and finances responsibly and honestly. Guardians may not combine their finances with that of their ward. If a guardian is irresponsible with their ward's finances, the guardian may be held legally responsible for losses.
Are There Different Types of Guardians?
Full Guardianship: This guardian makes all decisions for their ward, including finances, personal care and healthcare.
Limited Guardianship: A limited guardian makes some decisions for their ward, as indicated by the letters of guardianship.
Co-Guardianship: Two adults may be appointed co-guardians to prevent abuse of power by either party.
Temporary Guardianship: The court may appoint short-term guardians during emergencies where children or adults cannot make their own decisions.
Guardian ad Litem: This guardian is appointed by the court to represent a ward, often a child, during legal proceedings.
Is Guardianship Permanent?
The court determines the length and permanence of guardianship on a case-by-case basis. Guardianship of a minor child will typically end when the ward turns 18, or, in the case of a guardian ad Litem, when legal proceedings cease.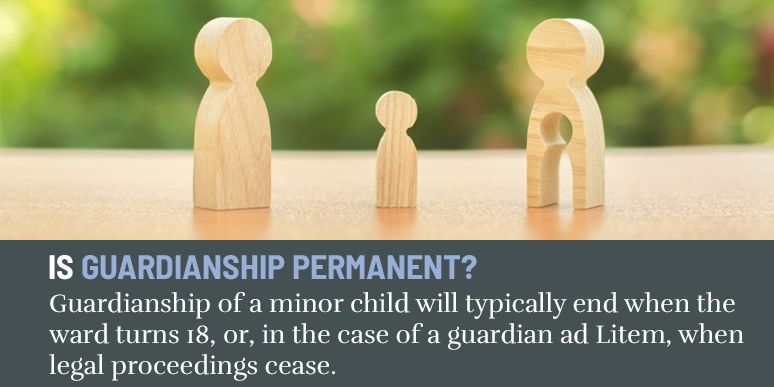 If the ward is not able to make decisions for themselves, the guardianship may be appointed for the life of the ward and guardian. However, ongoing guardianships may be adjusted. A ward can petition the court to remove or modify the guardianship order if they are cognizant and feel full or partial guardianship is no longer necessary.
Choosing a New York Guardianship Attorney
An experienced legal guardianship lawyer will advocate for you and/or your ward in New York courts. The experienced attorneys at FK Law Group in Queens can help guardians and wards develop a successful petition and navigate the hearing process. Contact our Forest Hill office today to discuss your legal guardianship options in New York.