Experienced Equitable Distribution Lawyers in Forest Hills, NY
Divorcing spouses in New York are subject to complex property division laws that require careful evaluation and equal distribution of marital assets.
What is Equitable Distribution?
Equitable distribution of property does not automatically entail a 50/50 split.
New York State requires divorcing spouses to divide their marital assets in a way that is fair for both spouses. The final percentage of total asset values awarded to each spouse may vary based on contributions made during the marriage, custody of minor children and other factors. The court may decide the final distribution amounts.
A skilled equitable distribution lawyer will advocate for your assets and best interest during court proceedings.

What Property is Subject to Equitable Distribution?
Any property acquired during the marriage can be divided. These assets include property jointly held by both spouses and any property they acquired individually while married. Prenuptial agreements do apply and may prevent the division of certain assets.
Examples of property subject to division include:
Cars
Houses
Income earned by one or both spouses
Retirement benfits
Related increases in the value of property acquired during the marriage
Gifts between spouses

Equitable division applies in all instances, even when one spouse holds a title, deed or account solely in their name.
What is Separate Property?
Certain types of property and assets may be excluded from equitable division under New York State law, regardless of a prenuptial agreement.
Property and assets acquired before marriage and brought into the union by each spouse
Personal injury compensation
Inheritances and gifts not given by the other spouse
If you are not sure whether you possess joint or separate property assets, our team of equitable distribution lawyers in Queens can provide expert guidance.
How is Property Divided in a New York Divorce?
If couples do not agree on a plan for the division of property during a divorce, the courts will assess multiple factors to establish a division that is fair to both parties. Points of consideration can include:
Assets held by each spouse at the time of marriage and divorce
Age and health of each spouse
Marriage length
Custody of any minor children
Changes to pensions and inheritances as a result of the divorce
Loss of health insurance due to divorce
Business ownership
Tax consequences to each spouse
Contributions to education (such as an advanced degree)
Ease of converting non-cash assets to cash
Whether or not one spouse wasted or got rid of marital property during divorce proceedings
Courts may award fair distribution of physical property or rule that spouses are entitled to a portion of assets in the form of a cash payment.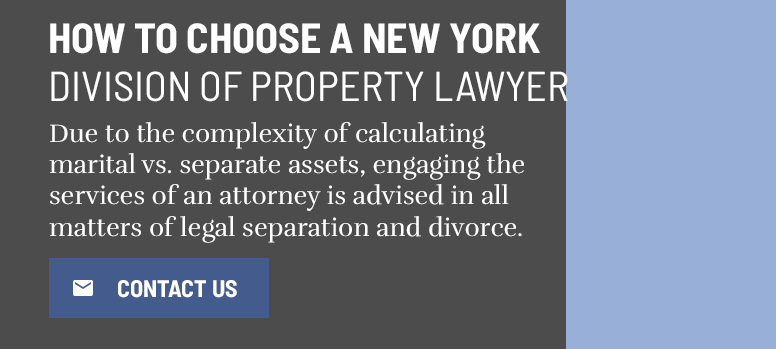 How to Choose a New York Division of Property Lawyer
Due to the complexity of calculating marital vs. separate assets, engaging the services of an attorney is advised in all matters of legal separation and divorce.
If you are entering into a divorce, FK Law Group's team of expert division of property lawyers can advocate for your best interests. Contact us for a free consultation at our Forest Hills office to discuss your options and rights in amicable and court-ordered division of property agreements.