Experienced Real Estate Lawyers in Forest Hills, NY
New York's diverse real estate market offers apartments for lease, cooperative apartment ownership, condominiums, townhomes, private homes and investment properties. Understand your options, protect your investments and resolve tenant disputes with the help of experienced real estate attorneys in Forest Hills.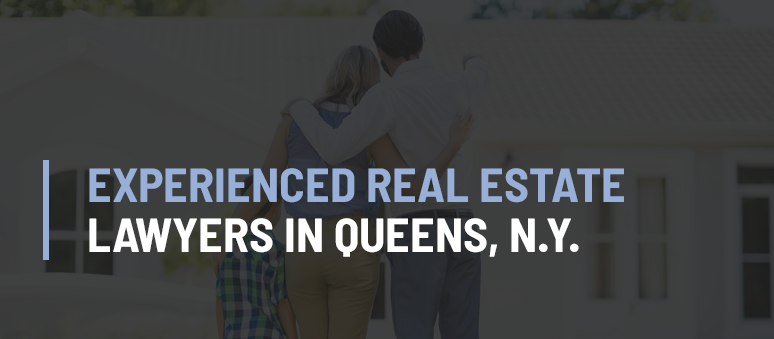 Boundary Line Disputes
FK Law Group's real estate team has experience resolving personal property boundary disputes between neighbors and correcting deed errors.
College Student Housing Disputes
Our team of real estate attorneys help landlords and student tenants resolve disputes that may arise over ordinances, rental agreements, subleasing and more.
Condominium Law
Work with the FK Law Group team to establish a Declaration of Condominium, resolve member disputes, and navigate the New York condominium real estate market.
Easements
Our team of experienced real estate attorneys help New York homeowners establish, modify, or fight easements on their homes and land.
Foreclosure Law
New York State foreclosures must be processed through the courts. Establish your rights as a homeowner, fight eviction and navigate the foreclosure process with expert guidance from FK Law Group.
Homeowners Association (HOA) Law
FK Law Group's real estate team helps homeowners form, work with, and resolve disputes against HOAs.
New York laws provide protections for landlords and tenants. Whether you are facing eviction or seeking to remove a tenant due to damages, breach of contract or unpaid rent, our team can help. The FK Law Group team has successfully defended and pursued evictions for clients through Queens and beyond.
Private Nuisance
Our experienced attorneys can help homeowners protect their quality of life by pursuing or fighting a private nuisance charge in New York.
Public Nuisance
Defend against public nuisance charges or protect your quality of life with help from FK Law Group's experienced real estate attorneys.
Real Estate and Construction Loan Regulations
Protect your property buying and construction financing with support from attorneys experienced in New York real estate financing laws.
Real Estate Contract Law
Feel confident navigating New York's diverse property-buying market with the help of an experienced real estate attorney in addition to your agent and broker.
Real Estate Investment Law
Commercial real estate investors and landlords can protect their investment by working with FK Law Group's qualified New York real estate and investment attorneys.
Real Estate Leasing Agreements
FK Law Group's experienced real estate attorneys can help New York landlords develop contracts that protect assets and avoid tenant disputes.
Real Estate Litigation
It is essential to work with an experienced attorney when real estate disputes move to litigation. Our team understands the unique laws that benefit homeowners, landlords and tenants — helping you fight for your rights in court.
Real Estate Transactions and Closings
The FK Law Group team provides complete real estate closing services, ensuring your new home or investment is protected during purchase and sale.
Trespassing
Proven trespassing may be a legal violation or crime in New York State. Our expert legal team helps property owners protect their assets and recover damages owed by trespassers.
Work with an Experienced Real Estate Law Firm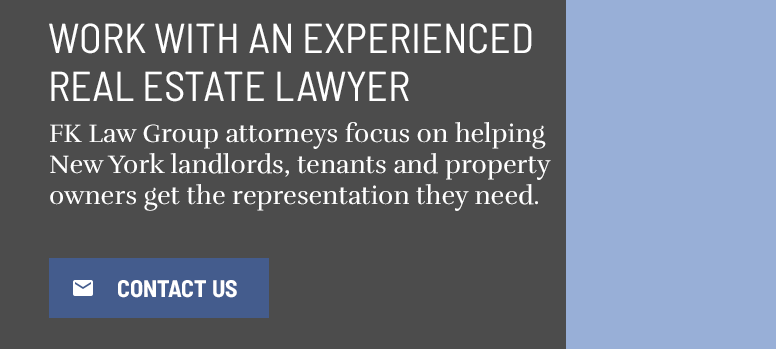 FK Law Group attorneys focus on helping New York landlords, tenants and property owners get the representation they need. Contact our team today to discuss your New York real estate legal rights and get support in the courtroom or through negotiations and purchases.