Experienced Eviction and Landlord Tenant Lawyers in Queens
Rental properties are a vital part of the New York real estate and housing market. Whether you're investing in commercial property, choosing the perfect new home, or dealing with an eviction, FK Law Group's landlord tenant lawyers in Queens can help.
The Landlord Tenant Environment in New York
The state requires landlords and tenants to adhere to specific regulations during the rental process. These rules are in place to protect all parties and reduce disputes between landlords and tenants.
The Housing Stability and Tenant Protection Act of 2019 provides guidance on rental agreements, rent payments, evictions, security deposits, inspections and more.
Security Deposit Laws in New York
A security deposit is often collected by landlords when a new tenant signs a rental agreement. These funds are to provide coverage for excessive wear or damage to an apartment. If there are no repairs to be made at the end of a tenant's residency, the security deposit is returned.
Security deposits are not required by law in New York City or state. However, if a landlord chooses to collect a cash security deposit from tenants, they must follow specific guidelines. Deposits may not exceed one month of rent, must be held in a New York bank, and remaining balances are to be returned to tenants within 14 days of moving out.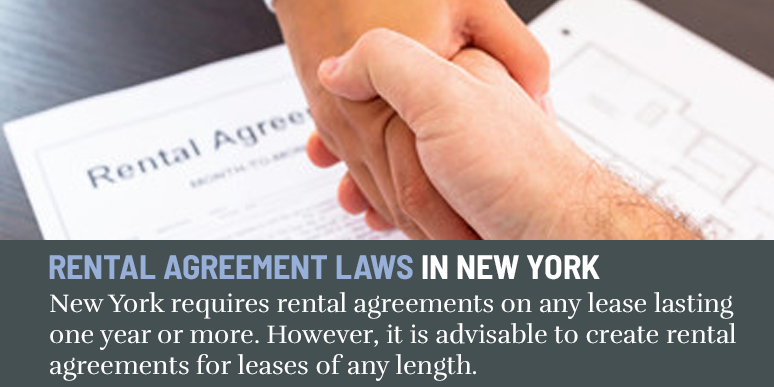 Rental Agreement Laws in New York
New York requires rental agreements on any lease lasting one year or more. However, it is advisable to create rental agreements for leases of any length. The rental agreement document clearly outlines basic expectations and specific responsibilities that each party must abide by for the duration of the lease.
FK Law Group's experienced landlord tenant lawyers can create custom agreements for leases of any length, ensuring protections for landlords, tenants, and property.
Renewing a Rental Agreement
At the end of a lease, a tenant and landlord may choose to renew the agreement or part ways. Typically, landlords outline the terms of renewal, including any rent increases. One notable exception is in New York City's rent-stabilized apartments. Tenants residing in rent-stabilized apartments are entitled to a yearly renewal of the same lease agreement.
Terminating a Rental Agreement
Landlords may include a provision for early termination penalties in their rental agreements. However, tenants may have a legal right to terminate their agreements early, without liability, to:
Escape domestic violence
Move into a senior citizens' retirement or care home
Comply with active military service requirements
A tenant may also be within their legal right to terminate a rental agreement if the property is not safe for habitation or the landlord harasses them.
Rental Payment Laws in New York
Lease agreements outline expectations and requirements for rental payments. Landlords may opt to include a penalty for late rental payments and raise the rent each time the contract renews. New York City sets a maximum threshold for rent increases on stabilized apartments.
Tenants in New York State have a right to pay their rent by non-electronic means if desired. They may withhold a portion of rent if landlords neglect to carry out essential repairs.
New York Laws on Eviction
COVID-19 Eviction Update — By order of Governor Andrew Cuomo, no residential or commercial evictions may occur in the state of New York through January 1, 2021. If you are currently facing an unlawful eviction notice from your landlord, contact FK Law Group's tenant attorneys immediately at 1-800-631-1757.
Landlords may not evict tenants without defined cause or to move in a new tenant paying higher rent.
If a tenant follows the rental agreement's terms and conditions, they are protected from eviction during the rental period. Should a tenant violate the rental agreement, they may be liable for eviction.
When a landlord identifies a tenant's actions or non-actions as a violation of the rental agreement, eviction proceedings may begin. Typically, evictions follow a series of steps leading up to the final removal of a tenant:
If the tenant does not resolve the violation in this time frame, the landlord may present the tenant with an eviction notice.
If the eviction is due to late or nonpayment of rent, landlords must present tenants with a payment demand giving 14 days' notice. This notice must arrive via certified mail.
To complete the eviction process, a landlord must go to court and win. A law enforcement officer will carry out the actual eviction — landlords are not allowed to change the locks, turn off utilities, or remove a tenant's property as a means of removal.
Tenants facing eviction should review current New York City and state housing law with an attorney. Under the Housing Stability and Tenant Protection Act, tenants who suspect retaliatory eviction for filing a legitimate complaint about the property's habitability within the past 12 months may be protected from removal. Depending on the circumstances of each eviction, there may be non-litigation avenues, including full payment of past-due rent, that can stop an eviction process and allow tenants to remain in their homes. Tenants receiving Section 8 housing subsidies may have additional protections and avenues of recourse when facing a potential eviction.
It is strongly recommended that landlords and tenants communicate via written notices and requests whenever possible. Having a written record of communication can help to resolve disputes before or during litigation.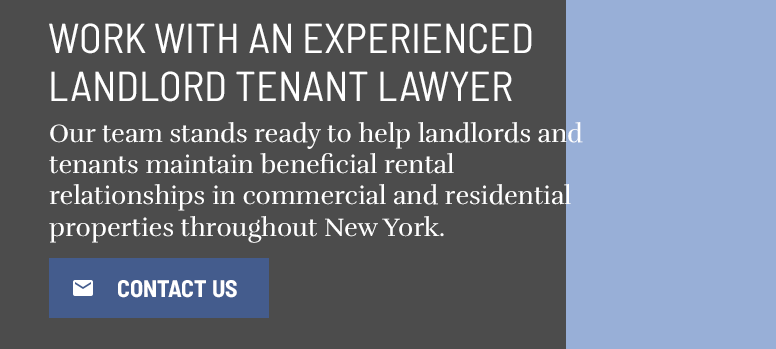 Work with an Experienced Landlord Tenant Law Firm
FK Law Group's landlord tenant lawyers are well versed in the intricacies of New York City and state rental laws. We work with landlords and tenants through every part of the rental process, including securing rental properties, drafting and navigating rental agreements, and litigation over disputes or evictions. Our team stands ready to help landlords and tenants maintain beneficial rental relationships in commercial and residential properties throughout New York. If you are unclear about your rights as a landlord or tenant in New York, contact us today for a free consultation with our landlord tenant lawyers in Forest Hills.