Work With Experienced Child Support Lawyers in Queens, NY
New York State law requires all parents to support their children. This responsibility applies to married, separated and divorced couples as well as parents who never married.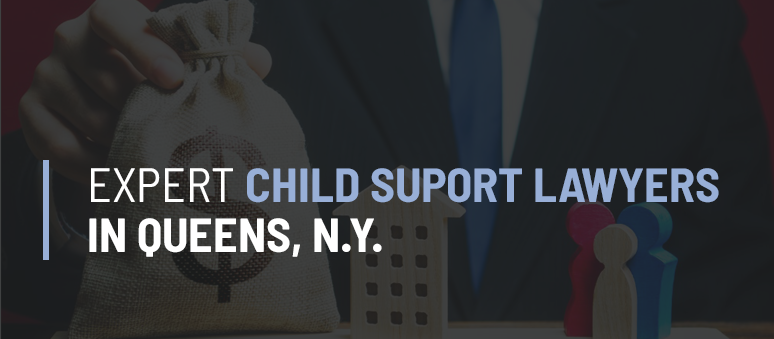 What is Child Support?
Child support is the parental responsibility to provide financial help for the care of a child, and health insurance. In most cases, parents must pay support until the child turns 21 years of age, even if the custodial parent can financially support a child on their own.

The requirement may end sooner in specific circumstances, such as if the dependent child gets married, joins the military, or emancipates themselves from the parents.
How Can Child Support Lawyers Help?
An experienced child support lawyer can help represent the interests of both parents and children in family court. The family and child support lawyers at FK Law Group in Forest Hills, NY, can help, whether you are:
A custodial parent seeking support for your child
Interested in changing an existing child support order
Attempting to enforce an order
A non-custodial parent responding to an order
Required to pay support while your child is in foster care
How Does a Change in a Parent's Income Affect Child Support?
The court does not automatically register income changes. It is necessary to file a petition with the court and request a child support modification. These modifications apply in several circumstances, including if a parent:
Experiences a loss of income
Experiences an increase in income through work or remarriage
Becomes disabled or ill
Experiences a reduction in employability
Is incarcerated
Experiences an increased cost of living
Child support modifications may also be requested based on the child's changing needs or if New York's child support laws change. A modification may override the existing order or only apply for a temporary period due to financial hardship or medical needs.
Parents are required to file the appropriate modification paperwork if they cannot make a child support payment due to loss of income or employability. A personal agreement between parents will not be recognized if it is not brought before the court. The experienced family support and child support attorneys at FK Law Group's office in Queens, NY, can advise each parent on the best course of action for their situation.
What Options are Available for Child Support Enforcement?
The state will notify non-custodial parents of unpaid child support obligations. If the support remains unpaid, a collection procedure may begin. This may include:
Automatic payment deductions from paychecks or unemployment insurance benefits
Collection of the non-custodial parent's tax return
Seizure of New York State lottery winnings
Seizure of bank accounts and other assets
Suspension of the delinquent parent's driver's license
Denial of applications for a passport
Placement of liens against real estate properties
The court can also order a non-custodial parent's employer to enroll the child in a health insurance plan. If you are seeking overdue child support payments or are unsure of your obligation to pay, an experienced family support attorney can help.

How is Child Support Calculated?
Child support payments are determined by multiplying each parent's income by a set percentage. When determining child support responsibility, the family court will also consider other factors, including:
Financial resources
Mon-monetary parental contributions
Educational needs
Special Needs
Children's physical and emotional health
Other children in the family
How do I Choose a Child Support Lawyer?
It's essential to work with a child support lawyer who understands the requirements of New York State law in family courts. FK Law Group's experienced family support and child support attorneys in Forest Hills are experienced in New York child support matters. Our team will help you reach the best outcome for you and your child. Contact us today for a free consultation at our local office in Queens, NY.